LED Drivers and LED Power Supplies
LED Power Supply Expertise
Driver Categories:
Constant Current Mode Drivers
Constant Voltage Mode Drivers
Enclosed UL Listed Drivers
Dimming Modules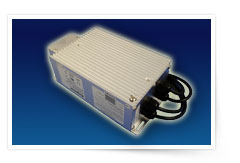 While the whole world is fascinated by the LED revolution in the lighting and signage industries, most people donít realize that the Power Supply (a.k.a. LED Driver) plays as important a role as the LED illuminator itself. After rushing to switch to the latest LED technology, many people are often puzzled by some unexpected questions.
My LED strings are covered by a three-year warranty, but my LED power supply has a one-year warranty. How can I expect the power supply to support the LEDs for their entire lifespan?
Why is the cost to repair my malfunctioning LED power supply actually higher than the savings provided by the more energy efficient LED lights?
Why does the vendor suggest that I house the IP65 rated power supply inside another water-tight box for outdoor use? Why canít the so-called "wet location" or "splash proof" power supplies withstand the real outdoor environment?
Because of the load de-rating requirement (in hot temperature) stated on most power supply datasheets, do I need to install additional power supplies into my LED signs so that they wonít get over-heated in the mid-day sun?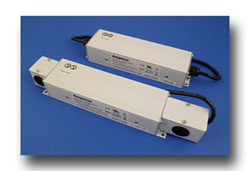 If you have these questions in mind, you need to take a look at Amperor's LED power supplies. We have worked closely with the engineers in the LED lighting industry to develop products free from these pitfalls. For example, our rugged designed ANP90, ANP155 and ANP240 constant voltage Class 2 LED drivers have passed the rigorous testing of UL 1310 wet certification to ensure full operation in dry, damp and wet conditions. Our ANP151 constant current driver supports the standard LED current: 350/700/1000mA. Our ANP106 and ANP206 drivers are budget solutions designed with 90%+ typical output power efficiency. Our ANP107 and ANP207 dimmable series have the 0-10V DC dimming function built-in for ease of use. Additionally, our ANP130, ANP132 and ANP60 constant current LED power supplies each offer one of the industryís best thermal load guarantees in delivering full rated power at 70 degrees Celsius.
Besides the standard product lines, Amperor is also capable of customizing designs to fit your needs. Are you searching for an oddly shaped power supply to fit into your system? Do you require a faster start-up time or an extra auxiliary output? Would you like to implement the IR or DALI bus control mechanism? Tell us the requirements and we can get it done.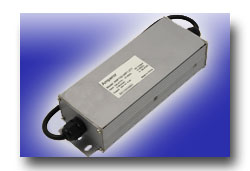 So please think of Amperor for all of your LED lighting applications including sign illumination, channel letters, backlighting, security pathway lighting, architectural, step and border lighting, as well as stage, theatre and commercial LED displays. Whether you are installing lighting or signage, Amperorís LED power supplies can help improve system performance, reduce costs and prolong the application life.
Please use the list below to find the LED power supply you need. You can also contact us by phone (281-807-3320) or by EMAIL. We have product evaluation samples in stock and ready to ship from our Houston office.
LED Power Supply Families
Constant Current Output Models:
Family Name

# of Channel

Rated Current (mA)

Voltage Swing (V)

Output Power (W)

Dimming

Product Page

PDF Spec.

1

700

6.5-12

8

0-10V

1

350

9-24

8

0-10V

1

350

4-19

8

0-10V

1

700

6.5-12

8

DALI

1

350

9-24

8

DALI

1

350

4-19

8

DALI

| | | | | |
| --- | --- | --- | --- | --- |
| 1 | 1400 | 40-71 | 100 | 0-10V |
| 1 | 1050 | 55-95 | 100 | 0-10V |
| 1 | 700 | 80-142 | 100 | 0-10V |
| 1 | 550 | 120-200 | 100 | 0-10V |
| 1 | 350 | 180-285 | 100 | 0-10V |
| 1 | 1000 | 45-75 | 75 | 0-10V |
| 1 | 700 | 65-107 | 75 | 0-10V |
| 1 | 1000 | 36-60 | 60 | 0-10V |
| 1 | 700 | 52-86 | 60 | 0-10V |
| 1 | 1000 | 24-40 | 40 | 0-10V |
| 1 | 700 | 35-57 | 40 | 0-10V |

1

5000

6-12

60

0-10V

1

4160

15-24

96

0-10V

1

2500

15-24

60

0-10V

1

2000

24-48

96

0-10V

1

1562

24-48

75

0-10V

1

1250

24-48

60

0-10V

| | | | | |
| --- | --- | --- | --- | --- |
| 1 | 4160 | 15-24 | 100 | 0-10V |
| 1 | 2800 | 21-35 | 100 | 0-10V |
| 1 | 3200 | 15-24 | 75 | 0-10V |
| 1 | 5000 | 8-12 | 60 | 0-10V |
| 1 | 2500 | 15-24 | 60 | 0-10V |
| 1 | 1400 | 25-42 | 60 | 0-10V |
| 1 | 1670 | 15-24 | 40 | 0-10V |
| 1 | 1400 | 24-30 | 40 | 0-10V |
| 1 | 1000 | 32-40 | 40 | 0-10V |
| 1 | 700 | 48-56 | 40 | 0-10V |
| 1 | 1040 | 15-24 | 25 | 0-10V |

Family Name

# of Channel

Rated Current (mA)

Voltage Swing (V)

Output Power (W)

Dimming

Product Page

PDF Spec.

| | | | | |
| --- | --- | --- | --- | --- |
| 1 | 5000 | 9-12 | 60 | |
| 1 | 4160 | 18-24 | 96 | |
| 1 | 3300 | 22-30 | 96 | |
| 1 | 2780 | 28-36 | 96 | |
| 1 | 2008 | 37-48 | 96 | |

| | | | | |
| --- | --- | --- | --- | --- |
| 1 | 4170 | 15-24 | 100 | 0-10V |
| 1 | 3330 | 24-30 | 100 | 0-10V |
| 1 | 2780 | 30-36 | 100 | 0-10V |
| 1 | 2080 | 36-48 | 100 | 0-10V |

| | | | | |
| --- | --- | --- | --- | --- |
| 1 | 5000 | 6-12 | 60 | |
| 1 | 4000 | 13-24 | 96 | |
| 1 | 3200 | 18-30 | 96 | |
| 1 | 3000 | 25-36 | 96 | |
| 1 | 2000 | 36-48 | 96 | |

| | | | | |
| --- | --- | --- | --- | --- |
| 1 | 6000 | 6-12 | 72 | |
| 1 | 5400 | 13-24 | 130 | |
| 1 | 4300 | 18-30 | 130 | |
| 1 | 3600 | 25-36 | 130 | |
| 1 | 2700 | 36-48 | 130 | |

Family Name

# of Channel

Rated Current (mA)

Voltage Swing (V)

Output Power (W)

Dimming

Product Page

PDF Spec.

| | | | | |
| --- | --- | --- | --- | --- |
| 1 | 350 | 220-440 | 154 | 0-10V |
| 1 | 700 | 110-220 | 154 | 0-10V |
| 1 | 1000 | 80-154 | 154 | 0-10V |
| 1 | 1400 | 70-110 | 154 | 0-10V |
| 1 | 2050 | 50-75 | 154 | 0-10V |

| | | | | |
| --- | --- | --- | --- | --- |
| 1 | 8330 | 17-24 | 200 | |
| 1 | 6660 | 23-30 | 200 | |
| 1 | 5550 | 28-36 | 200 | |
| 1 | 4160 | 37-48 | 200 | |

| | | | | |
| --- | --- | --- | --- | --- |
| 1 | 8330 | 17-24 | 200 | 0-10V |
| 1 | 4000 | 23-30 | 200 | 0-10V |
| 1 | 3200 | 28-36 | 200 | 0-10V |
| 1 | 3000 | 37-48 | 200 | 0-10V |

| | | | | |
| --- | --- | --- | --- | --- |
| 1 | 2100 | 60-105 | 200 | 0-10V |
| 1 | 1750 | 80-126 | 200 | 0-10V |
| 1 | 1400 | 100-157 | 200 | 0-10V |
| 1 | 1050 | 130-210 | 200 | 0-10V |
| 1 | 700 | 210-315 | 200 | 0-10V |

| | | | | |
| --- | --- | --- | --- | --- |
| 1 | 2100 | 12 | 320 | 0-10V |
| 1 | 1333 | 14-24 | 320 | 0-10V |
| 1 | 888 | 21-36 | 320 | 0-10V |
| 1 | 667 | 28-48 | 320 | 0-10V |
| 1 | 593 | 30-54 | 320 | 0-10V |
| 1 | 551 | 30-58 | 320 | 0-10V |
Constant Voltage Output Models:
Family Name

Descriptions

Product Page

PDF Spec.

Single Class 2 Output Channel
Total Output Power: 60W/75W/100W
Voltage Options: 12V, 15V, 19V, 24V, 30V, 36V and 48V
120Vac / 277Vac Input
Adjustable Output (V/I) Options
PZ option: with large Input Junction Box Attached

Two Class 2 Output Channels.
Total Output Power: 120W/150W
Voltage Options: 12V, 15V, 19V, 24V, 30V, 36V and 48V.
120Vac / 277Vac Input.
Adjustable Output (V/I) Options

Four Class 2 Output Channels.
Total Output Power: 240W
Voltage Options: 12V, 15V, 19V, 24V
120Vac / 277Vac Input.
Adjustable Output (V) Options
Enclosed, UL-Listed Drivers:
Family Name

Descriptions

Product Page

PDF Spec.

Single (or Double) Class 2 Output Channel
Total Output Power: 60W/100W/100Wx2
Voltage Options: 24V
120Vac / 277Vac Input
Adjustable / Diable Output Voltage
IP20 Indoor Damp and Dry Location
UL Listed

One Class 2 Output Channels.
Output Power Options: 25W/40W/60W/75W/100W
Voltage OUTPUT: 24V
120Vac / 277Vac Input.
IP65, Wet Location
UL Listed
Dimming Modules:
Family Name

Descriptions

Product Page

Spec.

LED Dimming Module
240W Output (max.)
Low Power Loss
Small Footprint
Download the latest datasheet package for all Amperor's LED Drivers